Youth Hostel – Zakopane, Krzeptówki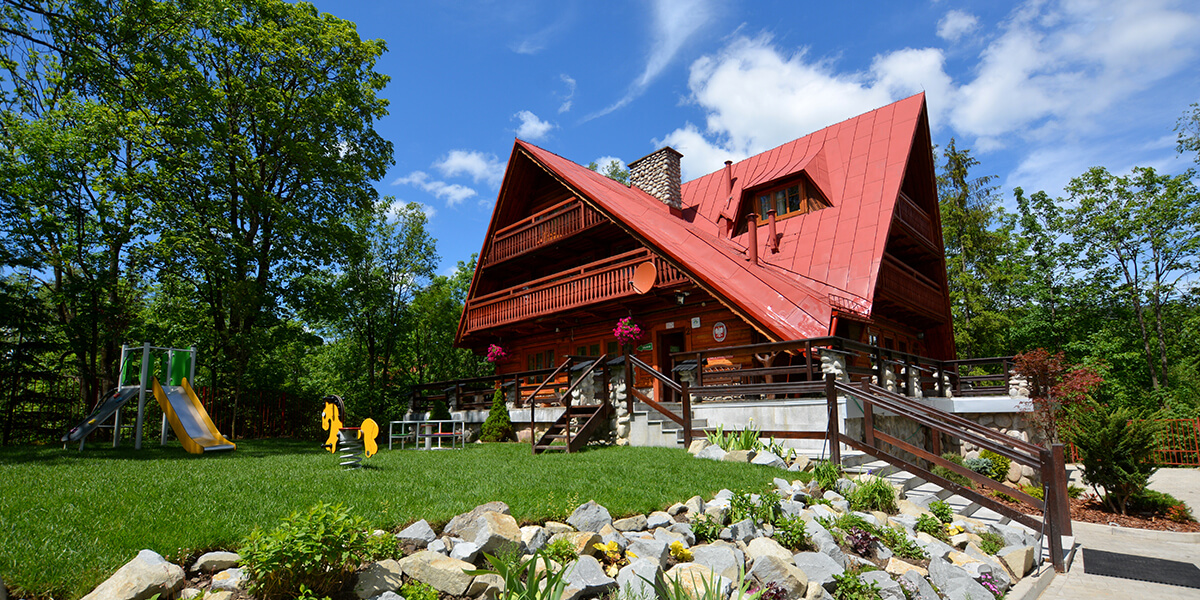 SYH branch in Zakopane is an ideal place with affordable accommodation for school tours, integration trips and families with children. The facility is located at 2 Krzeptówki Street, next to the Sanctuary of Our Lady of Fatima. From the windows of the Youth Hostel in Zakopane we can admire the mountain peaks, and above all the "Sleeping Knight" – Giewont.
The pleasantly developed area around the hostel, where there is a playground for children, mini pitch, garden barbecue grill, is fenced and contains a car park for our guests. You can also spend your time resting at the stream flowing around the building.
At a distance of about 200 m. from the site there are restaurants where you can order good value and tasty all-day food.
Zakopane is not only a fantastic base for exciting mountain climbing, but also allows you to visit numerous museums, theatre, etc. Comprehensive tourist offers provide the opportunity to ride a horse or mountain bike. In winter there are numerous ski lifts at the disposal of skiing enthusiasts – from easy ones, for beginners, to those requiring considerable skills and allowing to test their fitness, while in summer there are hundreds of miles of hiking trails – from easy walking paths to those leading to rocky mountain ridges.
Access to the valleys
Kościeliska, Chochołowska and to Czarny Dunajec is ensured by buses departing from the bus stop at the Sanctuary. The trip to Krupówki (the central street in Zakopane) is also easy to do by minibus or city bus no. 11. The walking distance is approximately 25 minutes.
We invite both lovers of winter sports and mountain hiking to Zakopane.
For the convenience of our guests, the reception is open 24 hours a day. Employees of the hostel provide assistance in organizing the stay, they will also provide detailed tourist and weather information.
WE OFFER
35 places in 1, 2, 3, 4, and 6 bed rooms,
fully equipped self-service kitchens (fridge, kitchen utilities, microwave oven, electric oven, electric kettles, toaster),
sanitary facilities with showers,
common rooms equipped with TV+VIDEO,
laundry and drying rooms,
2 computer stations with Internet access,
Free Wi-Fi,
recreation equipment, deckchairs, mini sports ground, table tennis, possibility to rent sport equipment
roofed garden barbecue,
WE PROVIDE NICE AND PROFESSIONAL SERVICE – WELCOME!