Youth hostel Kraków – Grochowa
FACILITY ADAPTED FOR PEOPE WITH DISABILITIES.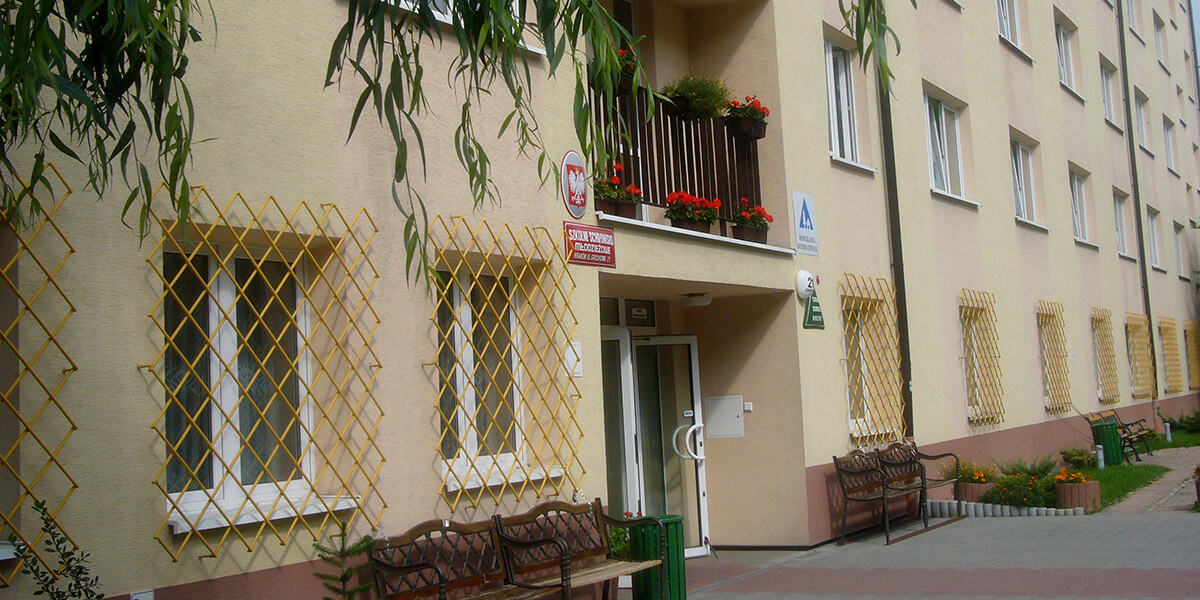 SYH Kraków – Grochowa is located in the Podgórze district by the road connecting the centre of Kraków with the Płaszów neighbourhood. This road also leads directly to the ring road of Krakow and the highway. The newly created fast tram route provides easy movement around the city. The journey to the Main Market Square takes about 15-20 minutes.
The hostel is located in a quiet and peaceful area, so you can relax in it away from the hustle and bustle of the city. In the canteen adjacent to the building there is a possibility to order very good food at reasonable prices. A large free parking lot belonging to the School Youth Hostel allows parking of passenger cars and several coaches.
About 200 m. from the building there is a large recreational area and the "Bagry" lake where during the warm days you can swim, rent canoes, water bicycles and other water equipment.
We provide an affordable, well-equipped accommodation base in Kraków, offering perfect conditions for large organised groups in particular. For individual tourists we offer rooms at various prices, adapted to different expectations of our guests. We particularly invite excursion groups and school youth interested in getting to know the attractions of Kraków and its surroundings.
In the hostel common room activities can also be organised, with the use of our audio-visual equipment and board games. At the request of our guests, notified in advance, we are able to organise at the extra charge, conversations in the field of tourism and recreation, and other events according to the suggestion of the organiser. We will help our guests organise sightseeing of Kraków and its neighbourhood with a guide, and we will suggest various possibilities of spending your time in Kraków.
We also invite people with disabilities, because we have 6 double and triple rooms adapted for the disabled.
We OFFER 200 beds
in 2,3,4,5-bed rooms equipped with couches,
6 rooms with kitchenettes and 2 bathrooms adapted for the needs of the disabled,
23 rooms of a higher standard, with bathrooms and TV-sets,
high-standard apartment for 4-6 people,
studio apartment with 4 single rooms
all rooms are equipped with TV
fully equipped self-service kitchens (fridge, kitchen utilities, microwave oven, electric oven, kettles),
sanitary facilities with showers, drying room and ironing room,
recreational equipment: billiards, table tennis.
common rooms equipped with TV+VIDEO,
possibility to order food,
free Wi-Fi throughout the facility,
recreational equipment: billiards, table tennis.
Free parking for guests
WE PROVIDE A FRIENDLY AND PROFESSIONAL SERVICE – WELCOME!